Day spa celebrates 20 years of pampering clients
Two veteran employees now co-owners of business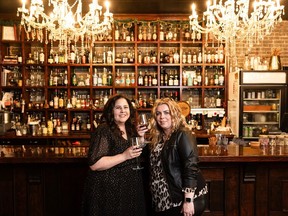 Article content
La Renaissance Day Spa and Beauty Studio has been pampering clients and reinforcing the importance of self-care way before it became a wellness mantra.
Article content
The spa is celebrating a milestone anniversary — and two new owners.
Article content
Long-time employees Natalie Gilbert and Jaimie Meagher took over the business Sept. 1. La Renaissance has two locations – a day spa at 283 Cedar St., which opened in 2003 and a beauty studio at 2040 Algonquin Rd, which opened in 2007.
Gilbert was the lead esthetician and has been with the business since it opened in 2003 while Meagher worked as the general manager. With the purchase, the business returns to local ownership – the previous owner was from Toronto. Both Gilbert and Meagher say they were also motivated to keep the current team employed and clients happy.
"We thought it was a good idea to collaborate, take it over and keep it local, bring ownership back to Sudbury," said Meagher.
Article content
Gilbert has worked out of the studio in the city's south end for the last 16 years. 
"When we started, there were only three esthetician – the owner, myself and another person," said Gilbert. "We started to get so busy that Nicole (original owner) had to pull away from services and she ran the business. We doubled and then tripled our estheticians. Now we are up to nine at the studio." The studio also boasts its own make-up artist.
The business partners say the spa has managed to be successful – and bounce back after the pandemic — because of their reputation in customer service.
"We put our customers first," said Meagher. "It's not about the bottom line for us. It's about the customers experiencing a nice relaxing day at the day spa or a vibrant and fun time at the beauty studio. Depending on which feeling you want to experience, you have two choices."
Article content
Clients are welcomed into the spa and studio with complimentary tea, coffee and snacks, just as though they are visiting a friend. 
"What truly distinguishes our spa from the rest is our unwavering commitment to excellence," said Meagher. "We pride ourselves on an unparalleled attention to detail, ensuring that every visit is a memorable and rejuvenating experience."
Gilbert added that they use the highest quality products and techniques to ensure their clients receive "top-tier, luxurious treatments."
"With two decades of experience under our belt, we've honed our craft and have a deep understanding of our clients' unique needs," said Gilbert. "But above all, our priority lies in the happiness and satisfaction of our clients, making each moment spent with us an oasis of relaxation and self-care."
Article content
Meagher said the business is involved in the community, as well, contributing to non-profit organizations like the YWCA Genevra House Shelter and Samaritan Centre, through donation of money or time.
"We run by heart and the clients and staff feel that," said Meagher. In addition, staff receive continuous training from management.
"We don't have a big turnaround in our staff," said Gilbert. "Half of our staff has been here over 10 years." 
"We absolutely love our staff – we thrive because of them and our loyal clients," added Meagher.
The two women say their skills and business ethics complement each other: Gilbert knows service and the business "inside and out" and Meagher's strength lies in the accounting side.
"It's like the ying and yang," said Meagher. "We mesh very well."
To celebrate the business milestone, clients are being offered the chance to win prizes throughout the month of November when they book a service.
To learn more about the services and products offered at the day spa and beauty studio, visit www.larenaissance.ca.
link