Inter Parfums (IPAR) Partners With Lacoste to Fuel Growth
Inter Parfums, Inc. IPAR is focused on driving growth through license deals with different brands. Moving along these lines, the company's majority-owned Paris-based subsidiary, Interparfums SA signed a license agreement with Lacoste — a well-known fashion sports brand. Both parties have entered into a worldwide exclusive 15-year fragrance license agreement, effective Jan 1, 2024.
Per the agreement, Interparfums SA will create, develop, produce and market all perfume and cosmetics lines under the Lacoste brand across selective distribution and the Lacoste boutique network. The first perfume line for the brand is scheduled for release in 2024.
The Zacks Rank #1 (Strong Buy) company's stock has rallied 36.8% in the past three months against the industry's 14.2% decline.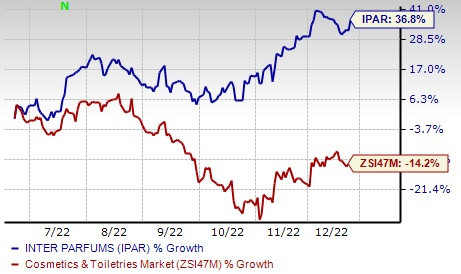 Image Source: Zacks Investment Research
Strategic Partnerships Hold Key to Growth
Inter Parfums has long been on track to expand its business through new licenses or acquisitions to drive growth. Inter Parfums concluded its agreement with G-III Apparel Group, Ltd. GIII — to become the exclusive worldwide licensee for the Donna Karan and DKNY fragrance brands, effective Jul 1, 2022. Management highlighted that it is optimistic about the partnership with well-established fragrance brands like Donna Karan and DKNY.
We note that G-III Apparel designs, sources and markets women's and men's apparel globally. GIII continuously strengthens its power brands through innovations, partnerships and licensing agreements. G-III Apparel remains on track with bolstering brands across channels with new launches, improved marketing strategies and broader consumer reach. It also plans to make efficient utilization of digital and social media platforms.
Meanwhile, Inter Parfums through its subsidiary Interparfums Italia signed a 10-year exclusive global licensing agreement with Emanuel Ungaro in December 2021. The partnership is aimed at creating, developing and distributing fragrances and fragrance-related products under the Emanuel Ungaro brand. In October 2021, Inter Parfums had finalized the agreement with Salvatore Ferragamo S.p.A. Per the agreement, Inter Parfums now holds the exclusive worldwide license for the production and distribution of Salvatore Ferragamo brand perfumes.
Inter Parfums has been gaining on its strategic partnerships with Origines-parfums and Moncler SpA. In July 2020, Inter Parfums' majorly-owned subsidiary, Interparfums SA, acquired 25% of Divabox's capital. Notably, Divabox is the owner of Origines-parfums, which is a renowned French company in the online beauty market. The deal enhances Inter Parfums' fragrance line and product range alongside pushing its digital development, courtesy of Origines-parfums' solid customer expertise. Prior to this, Interparfums SA signed an agreement with renowned luxury brand Moncler SpA in June 2020. The deal gave Inter Parfums rights to fragrance-related items in Moncler mono-brand stores along with a few other specialty shops, department stores and duty-free shops.
The recently signed agreement with Lacoste is another important strategic step for Interparfums, which is likely to keep accelerating its growth.
2 Solid Staple Bets
Some better-ranked stocks are The Chef's Warehouse CHEF and Conagra Brands CAG.
The Chef's Warehouse, which distributes specialty food products, currently sports a Zacks Rank #1. Chef's Warehouse has a trailing four-quarter earnings surprise of 93.8%, on average. You can see the complete list of today's Zacks #1 Rank stocks here.
The Zacks Consensus Estimate for CHEF's current financial year sales suggests growth of 46.5% from the year-ago reported number, while earnings indicate significant growth.
Conagra Brands, operating as a consumer-packaged goods food company, currently carries a Zacks Rank of 2 (Buy). CAG has a trailing four-quarter earnings surprise of 1.8%, on average.
The Zacks Consensus Estimate for Conagra Brands' current financial year sales and earnings suggests growth of 5.3% and 3.4%, respectively, from the corresponding year-ago reported figures.
Zacks Top 10 Stocks for 2023
In addition to the investment ideas discussed above, would you like to know about our 10 top picks for the entirety of 2023? From inception in 2012 through November, the Zacks Top 10 Stocks portfolio has tripled the market, gaining an impressive +884.5% versus the S&P 500's +287.4%.
Now our Director of Research is combing through 4,000 companies covered by the Zacks Rank to handpick the best 10 tickers to buy and hold. Don't miss your chance to get in on these stocks when they're released on January 3.
Be First to New Top 10 Stocks >>
Want the latest recommendations from Zacks Investment Research? Today, you can download 7 Best Stocks for the Next 30 Days. Click to get this free report
Conagra Brands (CAG) : Free Stock Analysis Report
GIII Apparel Group, LTD. (GIII) : Free Stock Analysis Report
Inter Parfums, Inc. (IPAR) : Free Stock Analysis Report
The Chefs' Warehouse, Inc. (CHEF) : Free Stock Analysis Report
To read this article on Zacks.com click here.
The views and opinions expressed herein are the views and opinions of the author and do not necessarily reflect those of Nasdaq, Inc.
link